Synopsis
Boyapati creates a fantastic narrative only to disappoint the audience with ordinary treatment, but Balakrishna is on hand to save the day. Strictly for Balakrishna's fans
Critic's Rating: 2.5/5
Story:
Murali Krishna and Akhanda are separated at birth because one of them must fulfil a destiny and fight a battle. What is it that binds these two together?
Review:
After Legend and Simha, director Boyapati Srinu and actor Balakrishna reunite for their third film, a mass masala entertainer that depends primarily on the star power of the lead actor. Due to a botched screenplay, a decent storyline gets watered down, and everyone takes a backseat for NBK (including one of his characters). The ultimate outcome may make Boyapati's admirers chant "Jai Balayya" incessantly, but no one can dispute that he fails to deliver on his promises.
In the faction-ridden Anantapur, Murali Krishna (Balakrishna) is a people's man. He is a farmer who uses his earnings to build hospitals, throw punches when necessary, and reform factionists to care for the environment and refrain from violence. His persona is practically a hint to Balakrishna's willingness to go out in his acting. With the support of Principal Secretary of Environment, Forest, and Climate Change, Padmavati, District Collector Saranya (Pragya Jaiswal) is unafraid to hold corrupt police personnel responsible and investigate deep into wrongdoings in her district (Poorna). And while there is ample time spent on how Saranya falls in love with Murali and how they construct a life together (after some strange flirtation over seat belts, taati kallu, and telugu tanam), this is not their narrative.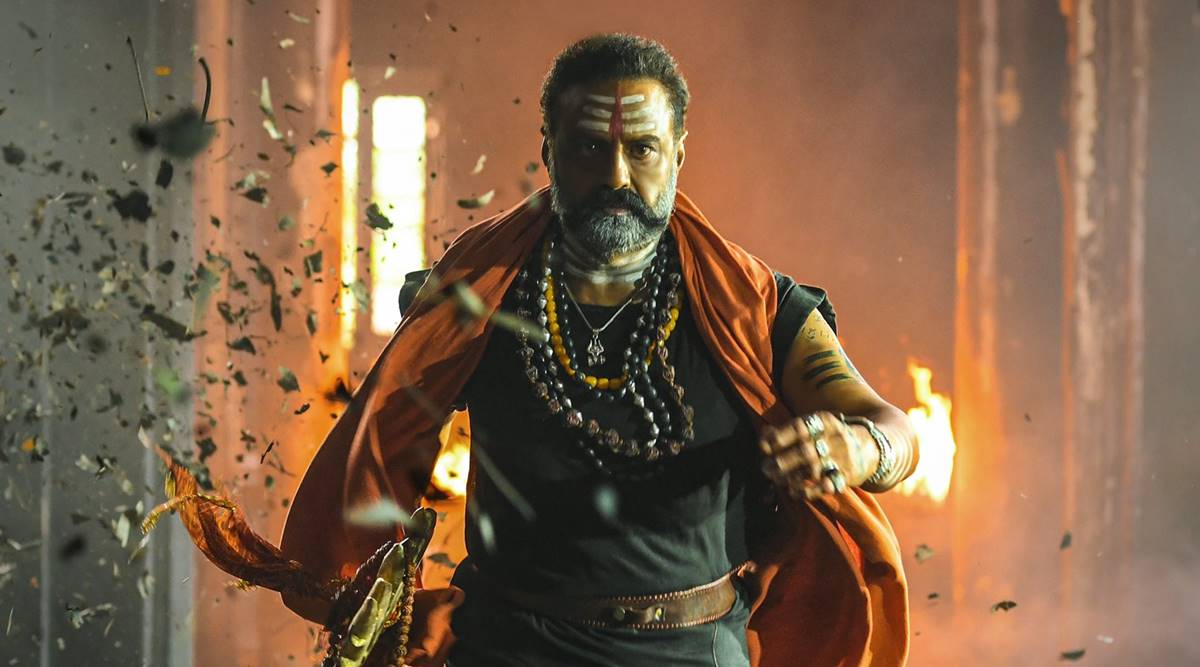 This is the storey of Murali's long-lost twin Akhanda (Balakrishna as an aghora/baba), who is kidnapped by a Baba (Jagapathi Babu) and taken away from his family to fulfil a destiny. He is said to have been born to atone for the sins of Gajendra Sahu (Niitin Mehta), a ruthless man who takes over an ashram and pretends to be a saint to hide his crimes. Varada Rajulu (Srikanth) is also featured in this storey, a cruel guy who engages in illicit uranium mining in Nallamala under the cover of copper mining. When individuals whose lives Murali promised to protect perish, and Saranya must struggle to rescue what remains of her family, Akhanda goes on a warpath to save the day.
While the basic premise of Akhanda is intriguing, especially the way Boyapati sets it up by weaving a mythical storey with mass moments in a way only he can, he quickly loses the plot (literally) and gets carried away with giving Akhanda and Murali mass moments that are sure to elicit whistles but do nothing to advance the plot. He also makes a detour to wax poetic on topics ranging from nature to the importance of God and temples to how women (like nature) should be preserved rather than ravaged. When the film uses double entrendre conversations, introductory sequences with vonis flying, and women/girls being exploited as war collaterals, the irony is not lost on anybody. None of this contributes anything to the tale. Everything and everyone, including Murali, takes a backseat the moment Akhanda enters the scene. Saranya and Padmavati have been transformed into damsels in distress.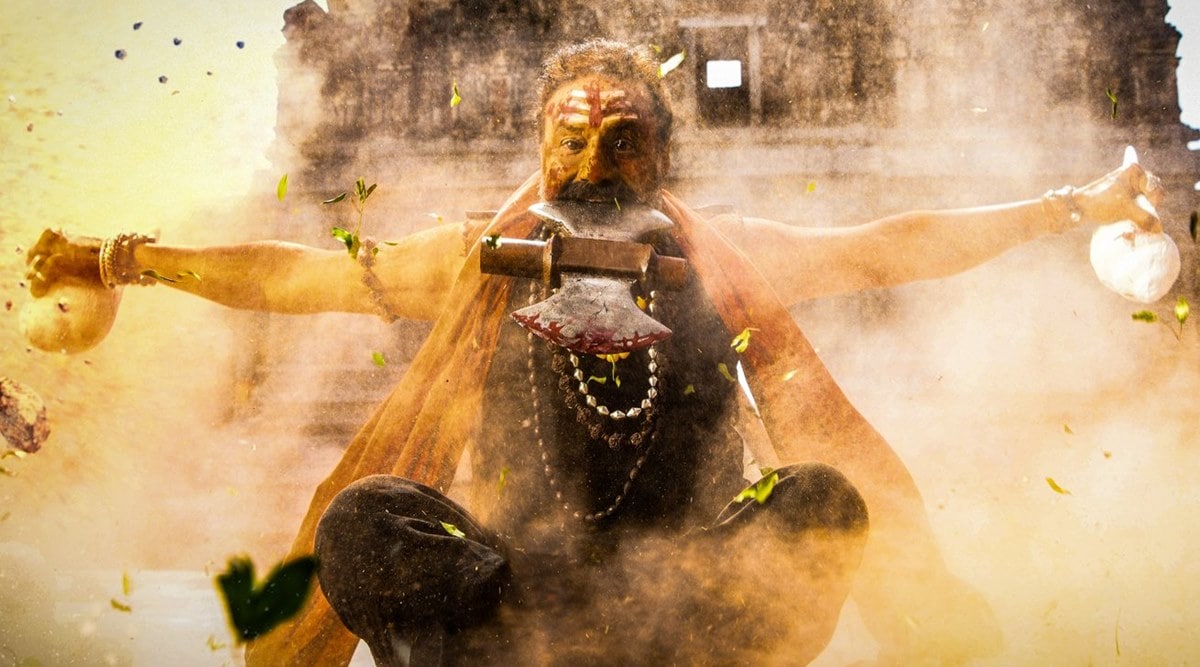 Murali is immersed in his own shame and sadness, and even the ostensibly strong Gajendra and Varada are helpless now that Akhanda is protected by Shiva himself. He is even said to be God himself.
Balakrishna shines since he appears in practically every shot of the movie, either as Murali or as Akhanda. When he's not showing off his hip new avatar in slow-motion views that centre on his false tattoos and piercing eyes, he gets to dance and engage in dialogue-baazi. While this gives you a high at first, it quickly becomes tiresome as the movie goes. Despite giving the role her best, Pragya gets an introduction (nearly) on par with the hero, but she's lost in the events. Poorna, Srikanth, Niitin, Jagapathi Babu, Kalakeya Prabhakar, Subbaraju, and other actors play one-tone roles.
Apart from the mass moments and battles (by Stun Shiva) that are entertaining (although there are far too many of them), Thaman's BGM is what makes the picture work. Even when it's evident that Boyapati is filling duration with little to say, his soundtrack and Ram Prasad's photography define the tone for the picture, keeping things entertaining. After everything is said and done, the film's length (2 hours and 47 minutes) does not appear to be warranted for the tale he wishes to portray. You also get the impression that, despite Balakrishna's aghora persona Akhanda occupying so much screen time, Boyapati sees an opportunity to do more with it.
Akhanda is the type of entertainment who will only appeal to Balakrishna's followers, while anybody wanting to pass the time while munching on a tub of popcorn may be left fatigued. Given how long it has been since a major motion picture has been released, only time will tell if this is the film that brings people back to the theatres.