Synopsis
Mudhal Nee Mudivum Nee – A lighthearted story about a group of high school kids, their aspirations, first loves, music, guitars, football, video cassettes, and more.
A JOURNEY DOWN MEMORY LANE WORTH WATCHING
Critic's Rating: 3.5/5
Mudhal Nee Mudivum Nee Review:
We've seen a number of college movies in various languages around the country over the years. Only a handful, though, have made an impression and evoked feelings of nostalgia. Mudhal Nee Mudivum Nee, directed by Darbuka Siva, is one such film. It's a basic yet refreshing story about a group of high school students going through the standard tribulations of adolescence. What about dreams, first loves, music, guitars, football, video cassettes, and other things? It'll undoubtedly take 90s youngsters on a nostalgic journey and delve deep into their hearts, since most of the situations are fairly realistic, and everyone has likely experienced the emotions at least once in their lives.
Despite the fact that this is composer-turned-filmmaker Darbuka Siva's first directorial effort, he has produced a well-made film with sensibilities comparable to those of seasoned directors. He understands how this narrative should be told, where it should begin, and when it should conclude. Siva transports us to the first day of high school, when Vinoth (Kishen Das), Chinese (Harish), Durai (Sharan Kumar), and Su (Gautham Raj) wait outside their classrooms to check the list of new students. They only want to know the girls' names and who would be their ideal match, even if they can't see them! We meet Rekha (Meetha Raghunath) in a matter of minutes, and Vinoth falls head over heels in love with her.
Their high school love is innocent but sophisticated. In reality, some of the events that occur between the two have been overplayed in Tamil cinema, yet they remain relevant.
Rekha's purchase of a guitar for Vinoth, an aspiring musician, is both lyrical and realistic. Most of the images recall memories of one's first love, from listening to Rahman songs on the walkman together to dancing on stage during departure. When Victoria (Harini Ramesh) enters their life, trouble ensues. The misunderstandings and complexities that occur between the two lovers as a result of Victoria's presence separate them and have a long-term impact on their lives.
The first half of the movie makes you feel wonderful, with some heartfelt laugh-out-loud moments, but the second half leaves you with a heavy heart. Darbuka Siva's script is remarkable in that it doesn't end with the love tale; it examines the wonderful features and challenges of the life of every character we meet in the film from the first scene.
The Chinese character, for example, is elegantly written. It's a joy to witness his love scenes with Anu (Amritha Mandarin). Amritha, who is well-known in the short-film industry, has done a fantastic job and has completely embodied Anu.
But it's her past, which we'll learn later, that makes our hearts melt. Not to mention, actor Rahul Kannan's transformation from loser to LGBTQ activist is something to keep an eye on. His performance is strong, and it takes a lot of courage to take on such a challenging job. Varun Rajan, Naren, and Sharan Kumar have also performed admirably. Gautham Raj's humorous one-liners have been really effective in keeping us entertained throughout the film. Kishen Das's Vinoth stays with you for a long time, thanks to his contrasting performances in the first and second halves.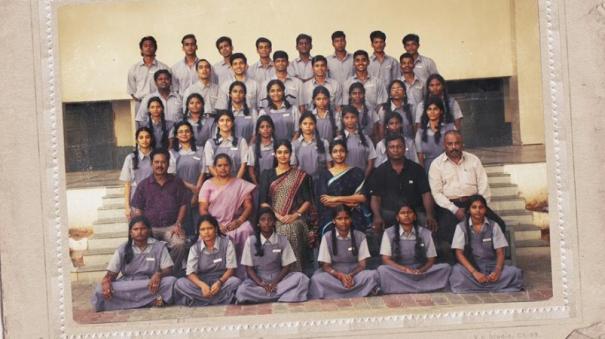 While the storyline and characters are well-developed and without flaws, the only concern is why does every director that deals with college films finish the second half with a reunion? Why is it necessary for every incident or solution to occur only during the reunion and not elsewhere? A few moments after the intermission leave us with the impression that the second half may have been different, focusing more on the individual individuals' personal lives through an interconnection rather than a reunion. The script comes up again as the picture proceeds, allowing viewers to comprehend the director's goal. Oh, no! There's also a cameo by Darbuka himself, which is a surprise fantasy element.
The video also explores what you really desire and how your life might have turned out if certain aspects of your life were sacrificed at certain points in your life.
Sujith Sarang's color tones, angles, and hand-held shots have all worked nicely with the narrative. It transports us to the world of the 1990s and shows us exactly what the filmmaker wants us to see, despite the fact that it is not technically sound. In the latter portion of the film, Darbuka Siva's music also helps to elevate the emotions. Most likely, the writer within him assisted in the composition of music that adds to the script's charm. Overall, the film is well worth seeing, and it will appeal to anyone who misses their school days.
Also read, What is The Top English Web Series to Watch