Synopsis
Rocket Boys is a heartfelt tribute to India's scientific heroes, as well as their hardship and dedication. THE SHOW OF JIM SARBH AND ISHWAK SINGH IS A GLORIOUS TRIBUTE TO INDIA'S SCIENTIFIC LUMINARIES.
Critic's Rating: 3.5/5
Rocket Boys Story
Dr. Homi Jehangir Bhabha (Jim Sarbh) and Dr. Vikram Ambalal Sarabhai (Ishwak Singh) are two remarkable Indian physicists who created history while creating India's future in this historical drama.
Rocket Boys Review
Dr. Homi Jehangir Bhabha recognized as the "Father of the Indian Nuclear Program," was a researcher in Cambridge before deciding to stay in India and join CV Raman's Indian Institute of Science. Before creating and directing the Bhabha Atomic Research Centre (BARC) in Mumbai, he served as a physics professor at the Tata Institute of Fundamental Research (TIFR). Dr. Vikram Ambalal Sarabhai, known as the "Father of the Indian Space Program" across the world, was an Indian physicist and astronomer who pioneered space exploration and helped India create nuclear power.
He also helped to build the Physical Research Laboratory and the Indian Institute of Management in Ahmedabad, as well as a number of other scientific institutes in India.
Nikhil Advani, Roy Kapur Films, an Emmay Entertainment's biographical fictionalized drama is riveting from the outset, skillfully portraying iconic scenes from the past, notably those that occurred during the pre-and post-Independence era. While narrating the real-life episodes of these scientists and their attempts to move the newly independent and struggling country forward in the technology route, Abhay Koranne's notion is both intense and inspiring for the spectators.
Also read, Watch Latest Hindi Movies Online
Abhay Pannu's eight-part series is an awe-inspiring drama that replicates the real-life happenings of the couple who initially became friends and envisioned working on India's nuclear program. He previously worked as an associate director on shows like 'Mumbai Diaries' and 'Yeh Meri Family.' It follows Vikram Sarabhai, who began experimenting on his college campus, and Homi Bhabha, a physics professor who is inspired by Sarabhai's ideas and continuous experiments, as they form a friendship and go on a mission to make India a nuclear power.
Later episodes focus on a young scientist, none other than A. P. J. Abdul Kalam (portrayed by Arjun Radhakrishnan), who collaborated with Sarabhai on the first rocket launch into space. It also depicts the involvement of former Prime Minister Pandit Jawaharlal Nehru (as portrayed by Rajit Kapoor) in the advancement of India's nuclear program. The script also incorporates historical clippings that run alongside the story to support events that occurred between the early 1940s and the 1960s.
Director of photography Harshvir Oberai, who reproduced the pre-and post-Independence eras, and editor Maahir Zaveri, whose exact cuts help in quickly changing the story between the timeframes, deserve special recognition. Additionally, Uma Biju and Biju Antony's historical clothes ensembles assisted in portraying the era and giving a realistic-looking touch to the plot.
Jim Sarbh is a wonderful match for Homi Bhabha, an eccentric physicist who is hell-bent on creating a nuclear reactor. He is believable in every picture, from his rise to his well-dressed clothes. Ishwak Singh gives an excellent performance as Vikram Sarabhai, a physicist from a wealthy Gujarati family. Sarabhai, unlike Bhabha, always wears simple kurta-pajamas, which represents his attitude toward life.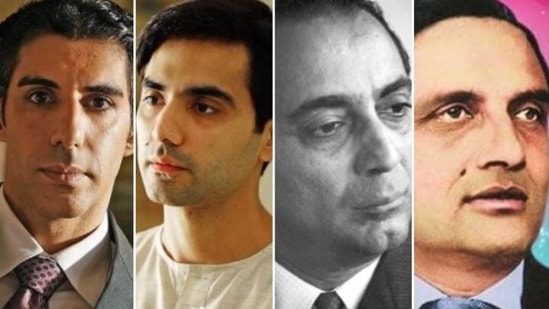 Both are Indian pioneers in their professions, and they have a special bond.
Also read, How to watch Sanam Teri Kasam 2016 Hindi Movie
Sarabhai, the son of an Ahmedabad industrialist, marries Mrinalini Swaminathan, an Indian classical dancer, in this play that dives deeper into their personal lives. Regina Cassandra, who has previously appeared in a number of Tamil films, makes her acting debut in this episode as Mrinalini. She appears put-together and attractive in every photo, whether it's her dance performances or navigating the ups and downs of her turbulent marriage. Saba Azad, on the other side, plays Parvana Irani, also known as Pipsi, a lawyer who is smitten by Homi. She appears to be a charming Parsi girl who is always there for Homi.
Despite the fact that ladies play minor roles in this male-dominated series on Indian science heroes, they make an impression.
Rajit Kapoor plays former Prime Minister Pt. Jawaharlal Nehru, Arjun Radhakrishnan plays A. P. J. Abdul Kalam, Dibyendu Bhattacharya plays scientist, Dr. Raza Mehdi, Namit Das plays reporter Prosenjit Dey, and K.C. Shankar plays Vishwesh Mathur.
Some viewers may find the series' pace too fast, with each episode lasting over an hour, but those who enjoy science-based programming will surely binge-watch it. 'Rocket Boys,' all in all, is a wonderful tribute to India's scientific stars, as well as their hardship and hard labor. It's a well-intentioned biographical drama series. Furthermore, Jim Sarbh and Ishwak Singh deliver strong performances in this biographical drama, making it a well-intentioned series.
Watch Rocket Boys Season 1
Bestseller best thriller movies imdb DJ Tillu english web series Hindi hindi film Hindi Movie Hindi Movie Review hindi movies hindi web series hindi webseries hindi web series free download imdb isaimini kapil sharma show 2020 Malayalam Movie malayalam movie review movie trailers Netflix new trailers No Exit official trailers Pathu Thala proxy pushpa Sehari Tamil Movie Tamil Movie Free Download Tamil Movie Review Tamil Movies Tamil Movies Watch Online Tamil movie trailers tamilrockers Tamil trailers tamilyogi telugu movie download telugu movie review texas chainsaw massacre The Kashmir Files The Lord of the Rings tkss trailers videos web series Web Series Download