Dhruv Vikram, who made his acting debut in the remake of 'Arjun Reddy' titled 'Adithya Varma,' spent his New Year's Eve in Dubai with Banita Sandhu. Banita also made her Tamil film debut in 'Adithya Varma.'
The couple posted a video of themselves enjoying the new year in Dubai, which has now gone viral. Many admirers believe the two have started dating in real life as well. The film 'Adithya Varma' was highly received, and the duo's onscreen chemistry was hailed and critically appreciated.
Banita may be seen admiring the vista of the Burj Khalifa in the photo provided by Dhruv Vikram. Take a look at this article!
Dhruv Vikram is now anticipating the release of 'Mahaan,' a film he co-wrote with Karthik Subbaraj. He co-starred with his father, Vikram, in the film, which is unlikely to be released in theaters.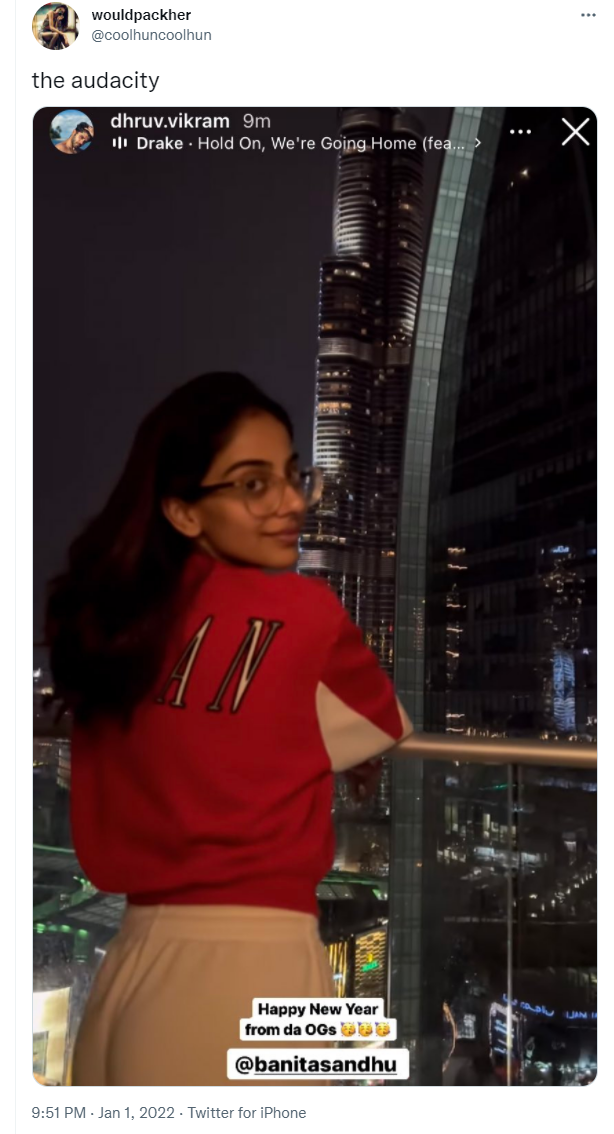 The movie's dubbing has been completed, and it has received a U/A certificate from the censor board. Simran and Simha will star opposite Vikram and Dhruv Vikram in the film, which will be produced by Seven Screen Studios. It was previously rumored that Dhruv Vikram will make his singing debut in this flick. However, no formal declaration has been made in this respect.
Also Read, Atrangi Re 2021 Tamilrockers Movie Download