Stranger Things Season 4 Synopsis
'Stranger Things 4' does go somewhere and there are unexpected story twists in the idea of being bigger and better.
DARKER THAN EVER, INDULGENT WITHOUT REGRET
Stranger Things Season 4 Story
The oddball group of kids in Hawkins are once more engulfed in darkness as unexplained events continue to terrify the hitherto tranquil town. How far will this frightening pattern of grisly murders and menacing threats go?
Stranger Things Season 4 Review
Nothing should be a surprise for a show like "Stranger Things" that relies on its past. It should come as no surprise that the Duffer brothers stretch the boundaries to the fullest this time, giving fans seven extra-large episodes in volume 1 of season 4 while only releasing two for online streaming in July.
However, before we go any further, allow us to caution you that starting the fourth season with little to no knowledge of the first three seasons will not be beneficial. One must be a true fan of all the upside-down mayhem that has advanced historically since its Netflix premiere back in 2016 in order to appreciate and even grasp the events of this massive season.
The disappearance of a little kid in a small village had set off a horrific supernatural dominion and brought them to a weird young girl who became known as Jane Hopper aka Eleven (Millie Bobby Brown).
Jane's tale takes a second seat to so much other and so many people in its most recent season, which is also its bravest, darkest, and most complicated ever. The simplicity of its earlier seasons, when a group of geeky lads set out to investigate the strange events going place in their town and Jane's talents took centre stage, cannot help but be missed.
The lads have reached that uncomfortable age and appearance now. Even though Jane has lost her abilities, the performance is at its best when there are only the two of them present.
'Stranger Things Season 4' does go somewhere and there are unexpected story twists in the idea of being bigger and better. There are too many music playing at once, which is ideal for binge-listening while paying full attention. However, if the sheer number of personalities and stories overwhelms you, this season may seem painfully packed.
The show's enigmatically funky background tune keeps us company while we watch familiar faces, people, and the perfectly reproduced 1980s vintage life. Jane is currently at her most vulnerable, having experienced bullying and physical harm at both her high school and the lab where Dr. Brenner (Matthew Modine) is engaged in more sinister experiments.
This maintains the possibility of Eleven returning to action alive. Along with Murray (Brett Gelman), who is on a quest to rescue Jim, Joyce (Winona Ryder) gets to leave Hawkins and kick some butt (David Harbour). In a dense story with so many moving elements, Mike (Finn Wolfhard), Dustin (Gaten Matarazzo), and Steve (Joe Keery) each have their fair share of experiences.
The high-tension horror eventually reaches a fever pitch in the volume 1 climax (if we can call it that), leaving us eagerly anticipating what comes next. The question of how much is too much is still up for debate, but for the followers of this odd series, there is no such thing as too much time.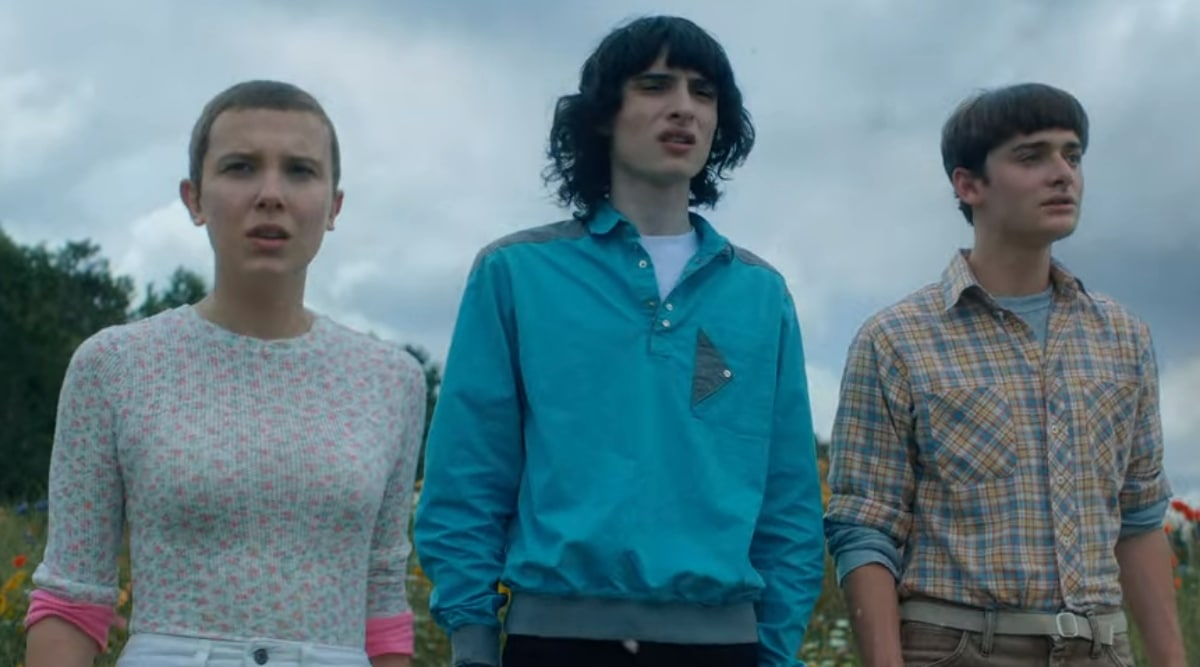 Other positive moments include Robin's fleeting moment of homosexual acceptance, which is really uplifting (and we can only hope that Will receives a similar response since his infatuation on Mike was so obviously hinted at despite the show's eye-roll-worthy insistence on keeping it unclear). Given how old Jonathan's college narrative is becoming,
Nancy and Steve's reconciliation feels more like forging ahead than going backwards. There are many potential outcomes for this adored ensemble of characters with one more season to go and Hawkins in a state of collapse.
To close on a romantic note, one of Stranger Things' best—and, quite honestly, underappreciated—aspects is the amount of power it gives its teen women characters. Despite the fact that Eleven had actual telekinetic abilities, Vecna was finally brought to an end by her reunion with Max and their brief alliance, as well as Nancy's questionable sawed-off shotgun.
The biggest and greatest characters in this programme, which is drenched in '80s nostalgia and presumably led by geeky, D&D-playing lads, are the female leads. I was wanting to see young, female characters that were intelligent and strong as a writer who was a teen when the programme debuted;
I had no idea Eleven, Nancy, Robin, and Max would go above and above my expectations.
It's time to start closing things up and putting everything to a conclusion now that we're heading toward the big finish. It also doesn't constitute as tightening anything up to murder off a few minor characters, even pleasant ones like Eddie Munson (Joseph Quinn). The ungainly core cast is still the same.
It is feasible to write a satisfying tale with a big cast, but it will only really succeed if EVERYONE, INCLUDING Mike and Jonathan, is given worthwhile tasks to do. The storyline has become less balanced as Stranger Things has gotten bigger, and the two extremely long episodes of "Volume Two" have just served to highlight the problem.
Even if there is still enough of enjoyment to be enjoyed, the urgency of it diminishes as the tale becomes bogged down by the large cast and bloated plot. Simply put, there must be LESS Stranger Things.
Watch it on Netflix
Also Read Top 10 Best18+ Adult Web Series On Netflix to Watch