LGBTQ – Are you looking for a Netflix movie with an LGBTQ+ theme? Here are our top choices.
Although it has improved over the past ten or so years, it used to be a little difficult to see LGBT people represented on television and film. Hollywood, thankfully, is clearly moving in the direction of telling LGBTQ+ stories and, in some instances, letting the LGBTQ+ community tell those stories.
In the past, gay films were typically independent or underground, with titles like But I'm A Cheerleader, Jennifer's Body, and Desert Hearts going on to become cult favourites years after their initial release. LGBTQ+ storylines have gained increasing acceptance in popular culture in recent years, with significant successes including Love, Simon, Call Me By Your Name, and Moonlight.
We thought it could be useful to present a brief overview of the top LGBTQ+ movie choices on Netflix in order to honour the queer community and increase accessibility to LGBTQ+ entertainment. Simple romance, comedy, horror, and a tonne of documentaries are all available. Therefore, we have you covered if you're seeking for a decent queer film to watch.
Note from the editor: I Care a Lot was added to this article in June 2022.
Here is the list of LGBTQ+
Ride or Die (2021)
Director: Ryūichi Hiroki
Writer: Nami Sakkawa
Cast: Kiko Mizuhara, Honami Sato
Run Time: 2 hr 22 min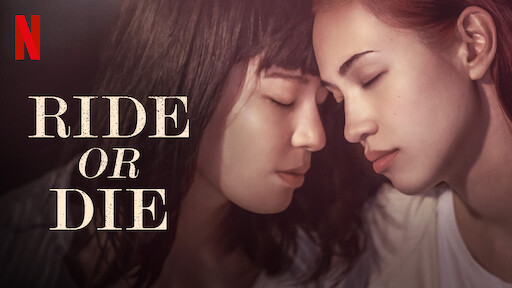 Another Netflix Original, Ride or Die is a Japanese psychological suspense film starring Kiko Mizuhara and Honami Sato. The narrative centres on Rei, a character played by Mizuhara who is in her late 20s and commits a terrible crime to aid a former classmate with whom she has been in love for many years. Rei kills Nanae's husband in order to protect the other woman, Nanae (Sato), who is a victim of terrible domestic abuse. After the murder, Nanae experiences contradictory feelings for Rei, but as they flee together, she relies on his love for her.
Rei decides to kill the husband in an effort to rescue Nanae and herself, but when reality finally sinks in, the two go on a journey that becomes darker and more turbulent. Based on Ching Nakamura's and Nami Sakkawa's comic series Gunj, the film is written by Nami Sakkawa and directed by Ryuichi Hiroki. This film is a great choice to watch if you're seeking for a suspenseful thriller with a passionate and touching primary romance.
I Care A Lot (2020)
Director: J Blakeson
Writers: J Blakeson
Cast: Rosamund Pike, Peter Dinklage, Eiza González, Dianne Wiest
Run Time: 1 hr 58 min
I Care A Lot, one of the most timely films to come out in 2020, stars Rosamund Pike (The Wheel of Time) as a cunning legal guardian who exploits and defrauds elderly patients out of their homes and savings. I Care A Lot is a cleverly written film by J Blakeson, who also served as the film's director. It is both thrilling and fascinating to watch. Dianne Wiest and Peter Dinklage from "Game of Thrones" co-star alongside Pike (The Bird Cage). The writer/director of Blakeson's film has also created an unexpected love tale on top of the already compelling legal criminal component and his darkly humorous banter.
Alex Strangelove (2018)
Director/Writer: Craig Johnson
Cast: Daniel Doheny, Antonio Marziale, Madeline Weinstein
Run Time: 1 hr 39 min
A adolescent boy's quest to understand his sexuality is the subject of the contemporary rom-com Alex Strangelove. Daniel Doheny's character, Alex Truelove, a typical awkward teen, has been Claire (Madeline Weinsteinbest )'s friend for a long time. The two start dating after calming her down at a party results in a kiss.
Everything appears to be going well, or as well as a high school romance can go, until Alex runs with openly homosexual adolescent lad Elliot (Antonio Marziale) at a party and sparks start to fly. Alex begins to wonder if he could be bisexual or homosexual as a result of amusing situations and friendship conflicts, all the while managing his relationship with Claire and his developing feelings for Elliot. Another underrated romantic comedy on this list, Alex Strangelove is frequently eclipsed by more well-known films like To All the Boys I've Loved Before and The Kissing Booth. Alex Strangelove is unquestionably a hidden treasure of a rom-com on Netflix.
Circus of Books (2019)
Director: Rachel Mason
Writers: Rachel Mason, Kathryn Robson
Cast: Karen Mason, Barry Mason, Rachel Mason
Run Time: 1 hr 32 min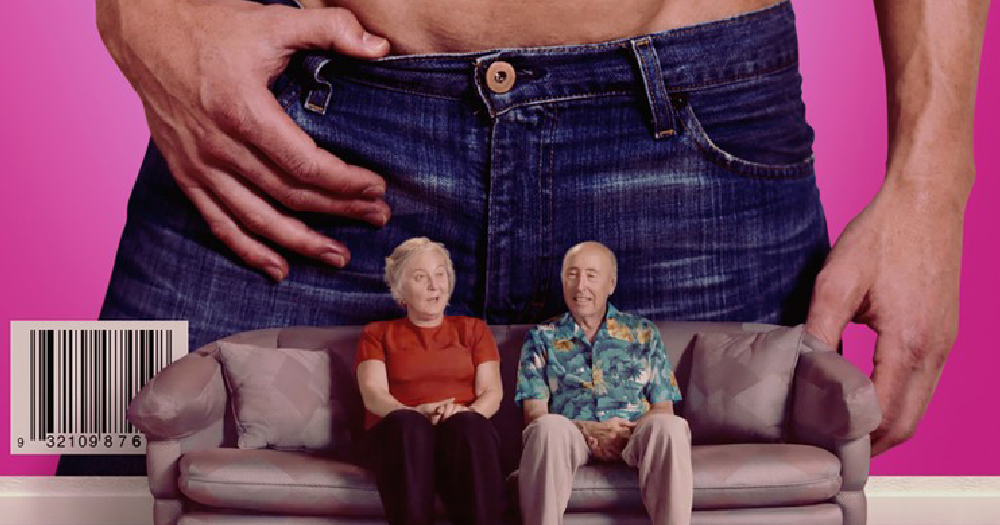 Circus of Books, the first film on the list (but surely not the last), is about a Los Angeles bookshop and gay pornography business of the same name. Audiences learn about a loving Jewish couple who kept their true line of work hidden from their family for decades while continuing to provide a safe haven for the LGBT community during a period when the world was very much against them through the movie's exploration of this shop. As it chronicles the Masons' takeover of the business in 1976 and all that choice resulted in, the film, which was brilliantly directed by the couple's daughter, Rachel Mason, explores porn, religion, AIDS, politics, and more.
It's really intriguing and moving, and it also pays a sincere tribute to Los Angeles's LGBT heritage from the previous 50 or so years.
Disclosure: Trans Lives on Screen (2020)
Director: Sam Feder
Cast: Laverne Cox, MJ Rodriguez, Angelica Ross
Run Time: 1 hr 40 min
Disclosure: Trans Lives on Screen, a different documentary, is all about what the title implies. The film focuses on the evolution of transgender representation in Hollywood and how it has impacted both the gay community and American culture. Laverne Cox, MJ Rodriguez, Angelica Ross, Yance Ford, Lilly Wachowski, Chaz Bono, and several more well-known individuals from the entertainment business, activism, education, and other fields make appearances in the film to discuss their own personal experiences. With specific movies like Ace Ventura, Tootsie, and others mentioned, the movie shows how transgender people have traditionally been harmfully misrepresented in Hollywood.
If you're searching for a documentary to see, Disclosure is a wise choice because it's smart, fascinating, and well-made.
Let It Snow (2019)
Director: Luke Snellin
Writers: Laura Solon, Victoria Strouse, Kay Cannon
Cast: Isabela Merced, Shameik Moore, Kiernan Shipka, Odeya Rush, Liv Hewson
Run Time: 1 hr 33 min
Teen rom-com Let It Snow is set over the holiday season and features several interweaving romances in a tiny town. The film stars Kiernan Shipka, Isabela Merced, Shamiek Moore, Liv Hewson, Anna Akana, and others and is based on the young adult novel of the same name by Maureen Johnson, John Green, and Lauren Myracle. The love story between Dorrie (Hewson), a server at a nearby diner called Waffle Town, and Kerry (Akana), a cheerleader she's been dating, is one of the greatest portions of the movie even if most of the romances portrayed in it are of the heterosexual kind.
It's a simple scenario, with Kerry coming out to her cheerleading closest friends despite her sincere belief that they wouldn't have any issues with it. But when she eventually sees Dorrie, she must choose between trying to restore their relationship and being clean about who she really is. Let It Snow is an overall nice, simple film to watch because of the surrounding tales, which are also charming and humorous.
The Perfection (2018)
Director: Richard Shepard
Writers: Richard Shepard, Eric Charmelo, Nicole Snyder
Cast: Allison Williams, Logan Browning, Steven Weber, Alaina Huffman
Run Time: 1 hr 30 min
The Perfection is all you could possibly desire in a queer horror thriller. Fair warning: this movie contains blood and has a twisty plot, but if you can handle all that, it's a highly satisfying and contemporary horror picture. Allison Williams plays Charlotte Willmore in the film The Perfection. Charlotte is a young cellist whose bright career is put on hold due to her mother's terminal illness. When she is eventually ready to return to music, she runs across Lizzie Wells, who replaced her in the music programme, played by Logan Browning.
The two hit it off right away and spend the night together, but Charlotte takes Lizzie on a psychological nightmare trip that makes Lizzie think that Charlotte is out to ruin her career as a cellist. It's impossible to really express how insane The Perfection becomes, but if you're a die-hard horror enthusiast, you should definitely see it.
Duck Butter (2018)
Director: Miguel Arteta
Writer: Miguel Arteta, Alia Shawkat
Cast: Alia Shawkat, Laia Costa
Run Time: 1 hr 33 min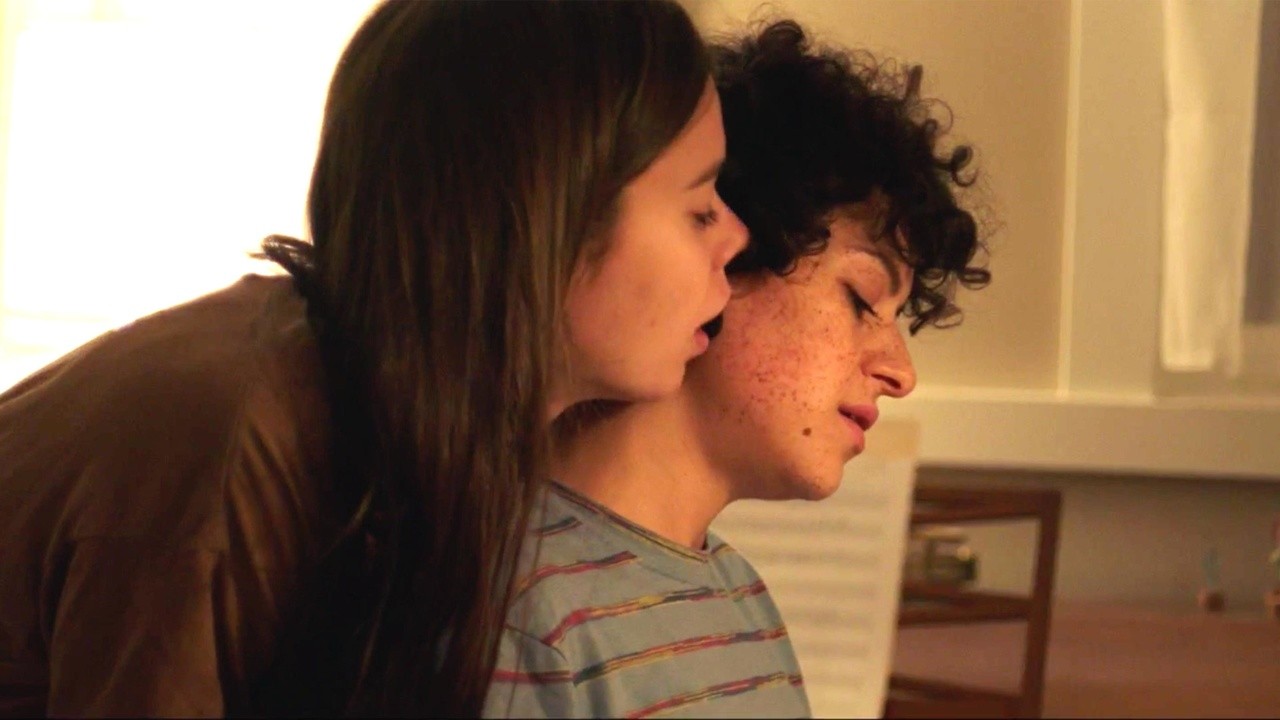 In Duck Butter, two ladies who met by chance and got acquainted decide to try out their relationship by being together uninterrupted for 24 hours while having sex every hour and being emotionally vulnerable. The more adventurous Sergio, portrayed by Laia Costa, helps Naima, a character played by Alia Shawkat, rethink her views. Together, they make an effort to leap forward past all the conventional processes in relationships to something more intimate and revealing. A terrific LGBT independent movie to watch at home, it also stars Mae Whitman, Kumail Nanjiani, the Duplass Brothers, and other actors.
The Half of It (2020)
Director/Writer: Alice Wu
Cast: Leah Lewis, Daniel Diemer, Alexxis Lemire
Run Time: 1 hr 44 min
Another adolescent rom-com, The Half of It tells the complex tale of shy Chinese-American teen Ellie Chu, played by Leah Lewis, who tries to earn some extra cash by helping jock Paul (Daniel Diemer) write love letters to the most popular girl at school. The only issue is that the lad has feelings for Aster Flores (Alexxis Lemire), who also happens to be Ellie's infatuation. Ellie's crush for Aster grows stronger when she reads Aster's answers to Ellie's letters that she had ghostwritten.
Ellie is forced to choose between keeping her secret and assisting Paul and Aster in their relationship or going clean and running the chance of losing both of them as Paul and Ellie start to bond and become friends. Everyone, regardless of age, should watch the adolescent rom-com The Half of It, which is a true hidden treasure.
A Secret Love (2020)
Director: Chris Bolan
Writers: Chris Bolan, Alexa L. Fogel, Brendan Mason
Cast: Terry Donahue, Pat Henschel, Diana Bolan
Run Time: 1 hr 23 min
Although it will break your heart, you must see this. The connection between Terry Donahue and Pat Henschel, the two great aunts of the director Chris Bolan, is the subject of A Secret Love, another documentary on the list (there are more). Terry and Pat fell in love after meeting as young adults. The couple kept their relationship a secret for over 70 years because at the time, LGBT individuals faced severe persecution. They maintained their relationship throughout while simultaneously operating a prosperous interior design firm. A Secret Love chronicles the tale of these two pioneering women who, after hiding their love for one another for so long, finally get to enjoy it.
The Death and Life of Marsha P. Johnson (2017)
Director: David France
Writers: David France, Mark Blane
Cast: Marsha P. Johnson
Run Time: 1 hr 45 min
This film, which centres on icons and activists Marsha P. Johnson and Sylvia Rivera, who campaigned for lesbian and transgender rights in NYC from the 1960s through the 1990s, is probably well-known to many people. The Death and Life of Marsha P. Johnson shows LGBT rights activist Victoria Cruz and her inquiry into Johnson's death in addition to spending a lot of time discussing this significant history. Despite the fact that the circumstances of the death were rather suspicious, it was first determined to be a suicide. The film is an excellent complement to the current crop of gay documentaries since it is thorough and educational.
The Boys in the Band (2020)
Director: Joe Mantello
Writers: Mart Crowley, Ned Martel
Cast: Jim Parsons, Zachary Quinto, Matt Bomer
Run Time: 2 hr 1 min
The Boys in the Band is a tale with a lengthy history; Mart Crowley wrote it as a play in 1968. Seven homosexual friends celebrate a birthday together in 1968 in New York City, but their pleasant occasion quickly becomes tense as long-buried emotions and secrets surface. The play's original cast appeared in the play's first film adaptation, which was released in 1970. The Boys in the Band is currently streaming on Netflix. After the play's resurrection in 2018, this movie's actors went on to be in it. The 2020 movie has a cast that is made up entirely of openly homosexual performers, including Matt Bomer, Jim Parsons, Zachary Quinto, Andrew Rannells, and others.
Elisa & Marcela (2019)
Director/Writer: Isabel Coixet
Cast: Natalia de Molina, Greta Fernández
Run Time: 1 hr 58 min
The early 1900s are the setting of the 2019 Spanish biodrama Elisa & Marcela, which is shot entirely in black and white. It's topic? At least as far as we know, this was the first ever registered same-sex union in Spain. To get a marriage licence at the Church of Saint George in A Corua, Spain, in 1901, Elisa Sánchez Loriga and Marcela Gracia Ibeas pretended to be a heterosexual couple. In the movie Elisa & Marcela, Greta Fernández plays Marcela and Natalia de Molina plays Elisa. If you're seeking for a period romance, this drama movie is a terrific choice to watch since it beautifully captures the love between the two ladies and does it in a pleasant manner.
Handsome Devil (2016)
Director/Writer: John Kelly
Cast: Fionn O'Shea, Nicholas Galitzine, Andrew Scott
Run Time: 1 hr 35 min
Ireland's comedy-drama Two housemates at the all-boys, rugby-crazed Wood Hill College are the subject of the coming-of-age tale Handsome Devil. Ned (Fionn O'Shea), a quiet outsider, is fairly disliked at school since he just doesn't care for rugby that much. It seems at first as though he and Conor (Nicholas Galitzine), his new roommate, aren't going to get along. However, their kind new English instructor, Mr. Sherry, soon encourages them to become a relationship (Andrew Scott).
As the two lads become closer, Ned learns that Conor, the attractive star rugby player, is homosexual but is reluctant to come out because of the homophobic culture at the school. Conor tries to overcome these obstacles in order to be his true self with the help of Ned and Mr. Sherry, who is also gay. Handsome Devil is a good choice to watch if you're seeking for a touching tale with inspiring ideas.
Other People (2016)
Director/Writer: Chris Kelly
Cast: Jesse Plemons, Molly Shannon, Bradley Whitford, Maude Apatow
Run Time: 1 hr 37 min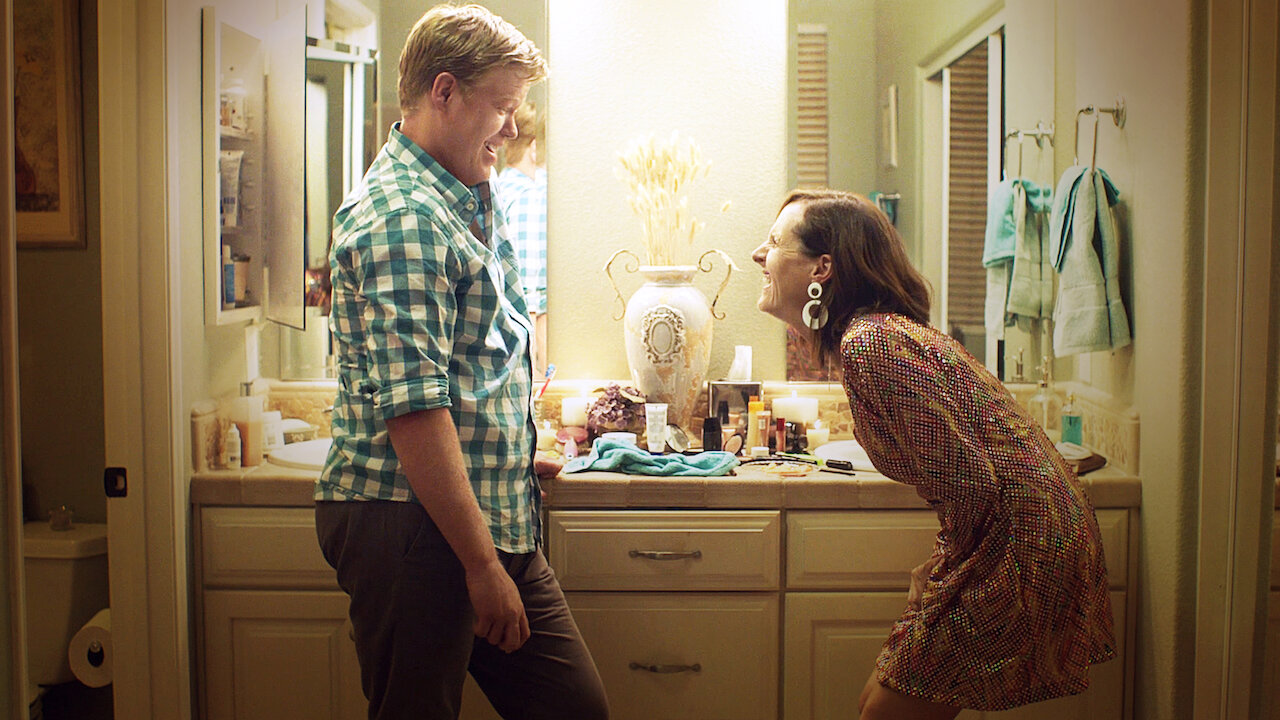 In the film Other People, starring Jesse Plemons, a guy called David travels back to Sacramento to care for his dying mother Joanne, who is portrayed by Molly Shannon. At home, David has to deal with his father Norman (Bradley Whitford), who has yet to accept David's sexual orientation ten years after he came out. David is attempting to maintain his family, his profession, and his friendship with his ex-boyfriend Paul (Zach Woods) while Joanne's disease worsens. His family is in risk of disintegrating after Joanne passes away.
A guy in the complex family drama Other People faces huge challenges that many people encounter, such as dealing with a family member who isn't accepting of your sexuality and losing a parent to a debilitating illness like cancer. Other People is a movie that should be on everyone's Netflix list because of the incredible acting from a cast that also included Maude Apatow and June Squibb.
The Prom (2020)
Director: Ryan Murphy
Writer: Bob Martin, Chad Beguelin
Cast: Meryl Streep, James Corden, Nicole Kidman, Keegan-Michael Key, Andrew Rannells, Ariana DeBose, Kerry Washington, Jo Ellen Pellman
Run Time: 2 hr 10 min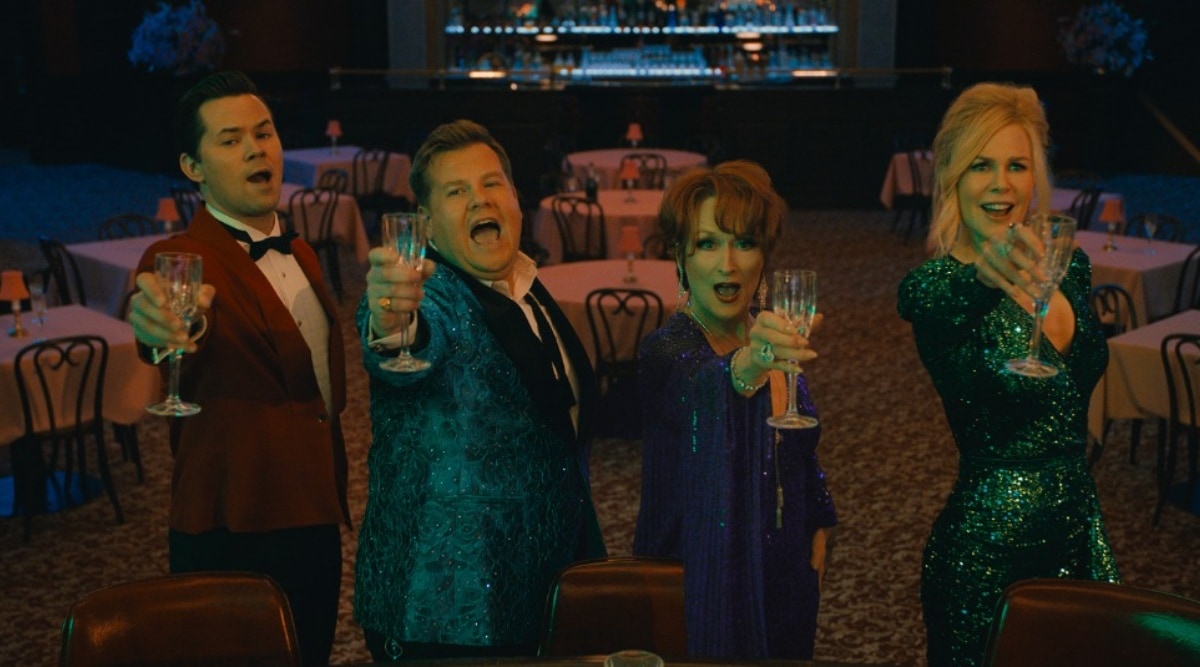 Even if it may be a little bit of a guilty pleasure for music lovers, The Prom is nevertheless a watchable film. Ryan Murphy's adaption, which is based on the same-named Tony Award-nominated musical, definitely chooses a style. The movie is blatantly theatrical and savours the silliness of its idea. It centres on a group of Broadway celebrities who resolve to support a young woman who is turned away from her conservative community of Edgewater, Indiana's high school prom. Thankfully, the movie pokes fun at the performers' evident disconnect rather than lionising the theatre business as a whole. If you can tolerate James Corden, The Prom is worth seeing for Meryl Streep, Nicole Kidman, and Andrew Rannells' oddball performances.
Fear Street Part One: 1994 (2021)
Director: Leigh Janiak
Writer: Leigh Janiak, Phil Graziadei
Cast: Kiana Madeira, Olivia Scott Welch, Benjamin Flores Jr., Julia Rehwald, Fred Hechinger, Ashley Zukerman, Darrell Britt-Gibson, Maya Hawke
Run Time: 1 hr 47 min
The Fear Street trilogy on Netflix is a love letter to the horror genre, with each instalment honouring the motifs common to various historical eras. Although each movie aims to be a stand-alone narrative, the more we delve into the lore, the more things seem to link. Because of the cliffhanger at the conclusion and other minor flaws, 1994 stands out as a stand-alone 1990s slasher that can be enjoyed without having to see the entire trilogy.
Additionally, even while gore and grisly deaths contribute to the attraction of horror films, no slasher can succeed without significant emotional stakes. The relationship between Deena (Kiana Madeira) and Sam is also at the heart of Fear Street (Olivia Welch), two teenagers looking for their place in the world. Fear Street Part One: 1994 is one of the top LGBTQ+ movies on Netflix because it is both a fantastic slasher and a narrative about acceptance and love.
The Power of the Dog (2021)
Director/Writer: Jane Campion
Cast: Benedict Cumberbatch, Kirsten Dunst, Jesse Plemons, Kodi Smit-McPhee
Run Time: 2 hr 6 min
a movie with awards An intellectual encounter, The Power of the Dog. This plot is almost flawlessly crafted by director Jane Campion, who won the Oscar for Best Director for this movie. She depicts both the setting and the personalities in exquisite detail. This psychological thriller, which is based on the same-titled Thomas Savage novel, is so severe and distressing that you will simultaneously be pleased when it is finished and regret it as well. The movie is set on the Burbanks' expansive ranch, which is managed by bully-in-chief Phil (Benedict Cumberbatch) and his amiable younger brother George (Jesse Plemons).
When the two run across widowed innkeeper Rose (Kirsten Dunst), it sparks a heated argument between the three of them and Peter, Rose's son (Kodi Smit-McPhee). This is a riveting movie due to the outstanding performances by the primary characters. Although the LGBT plot is understated, it influences the events. Don't be scared off by the movie's use of a fatphobic slur; this movie is a critique of toxic masculinity with a satisfying and shocking ending.
Single All the Way (2021)
Director: Michael Mayer
Writer: Chad Hodge
Cast: Michael Urie, Philemon Chambers, Luke Macfarlane, Kathy Najimy
Run Time: 1 hr 41 min
It has taken a while for LGBT Christmas romances to experience their current rebirth. The first gay holiday Netflix original film, Single All the Way, has all the characteristics of one. Classic Hallmark. Peter (Michael Urie), who is perpetually unmarried, travels to Peter's family's home for the holidays with his best buddy Nick (Philemon Chambers). Sparks flare when Peter meets James (Luke Macfarlane) on a blind date, but why does he keep bringing up Nick?
This comfort watch is really cute. Go with the flow of this rom-com and its busy-body characters instead of overanalyzing the plot devices. While Chambers masterfully portrays the enduringly troubled and sombre buddy, Urie is his usual buoyant self. Luke Macfarlane is the main attraction, despite the large-than-life size of the supporting ensemble. He is such a sweet character, despite having a pretty little part! You should watch this movie if you desperately need some Christmas cheer.
The Old Guard (2020)
Director: Gina Prince-Bythewood
Writer: Greg Rucka,
Cast: Charlize Theron, KiKi Layne, Marwan Kenzari
Run Time: 2 hr 5 min
The Old Guard, a superhero adaptation based on the same-named comic book, is a welcome improvement. Don't get comfy and prepare for the unexpected since the movie begins with a startling moment that sets the tone for the remainder of the running time. Because each character in this Charlize Theron movie is distinct and entertaining to watch, the film works best when the focus is on them. The epic, centuries-old relationship between Joe (Marwan Kenzari) and Nicky steals the show in this movie, despite the intense action and Theron's continued demonstration that her action hero career is still in its infancy (Luca Marinelli).
The two characters' ingrained connection, their routine mocking, and their fleeting displays of affection are all so deftly weaved into the story. Global audiences were won over by Kenzari's epoch-making statement midway through the movie. Since superhero films still find it difficult to even accept LGBT identities, much alone a full-fledged romance, Joe and Nicky's love is groundbreaking. The finest aspect of their love story, though, is that it is handled as cynically as any other relationship, which is what elevates this movie to outstanding status.
Read Top 10 Best Thriller Movies on Netflix 2022 to Watch Now!