Sonam Kapoor to Sudhir Mungantiwar
Sonam Kapoor – For his insensitive attitude toward the LGBTQ+ community, Sonam Kapoor labels BJP MLA 'Illiterate & Hateful'.
He was speaking out against a proposed amendment bill to the Maharashtra Public University Act, 2016, in the video.
Sonam Kapoor Slams A BJP MLA For His Insensitive Comments About The LGBTQ+ Community
Sonam Kapoor, a Bollywood actor, has a large fan base in India, thanks to her impeccable sense of style and ability to carry off any look. She's also demonstrated her acting chops in films like Neerja and Raanjhanaa, both of which were well-received by audiences. Sonam has recently slammed a Member of the Legislative Assembly for making derogatory and uninformed remarks about the LGBTQ+ community.
Sonam was most recently seen in the film Ak vs AK, in which she played herself as a guest star. Ek Ladki Ko Dekha Toh Aisa Laga and The Zoya Factor, both released in 2019, featured her in pivotal roles. Both of these films fared poorly at the box office, although the public had conflicting feelings about Sonam's performance in both.
What Sudhir Mungantiwar Said
Sudhir Mungantiwar's recent statement went viral on social media, sparking the event. He was speaking out against a proposed amendment bill to the Maharashtra Public University Act, 2016, in the video. "Are you going to recruit homosexuals and gays as members?" he said, referring to the inclusion of LGBTQ+ community members on the University Board. Isn't it time to form a joint medical committee to look into this? It discusses both bisexual and asexual relationships. "However, these have yet to be defined," he stated.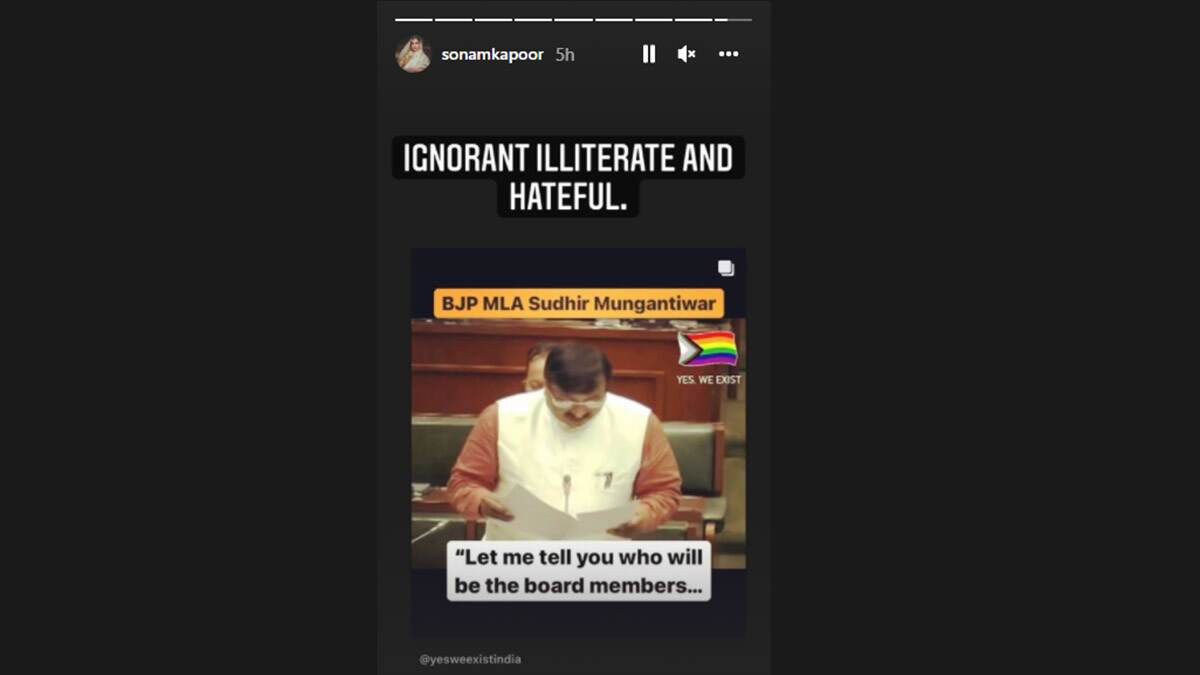 Sudhir Mungantiwar also questioned 'Asxual partnerships,' saying, "Asexual relationships. It has yet to be defined. Will an animal come and certify that there was an asexual relationship if a person has asexual relationships with it? "What the hell is going on?"
Sonam Kapoor was one of several celebrities who rushed to social media to condemn a BJP MLA's controversial statement in parliament against the LGBTQ+ community. "Ignorant, illiterate, and cruel," she captioned the popular video from Yes We Exist India on her Instagram account. Take a peek around.
Also Read Taapsee Pannu Returns Home